Advantages FRÖMAG Machines
See some of the features that make up our machines
Servo Drives
Very high dynamic behaviour of the stroke and infeed axis, leading to fast movements and precision reversals
Rigid, heavy-duty backlash and maintenance free precision reversals
High machining precision
Low space requirement due to compact design without additional hydraulic unit
No hydraulic oil or costs for maintenance, servicing, oil change, storage and disposal
No thermal pollution of the environment from hydraulics
Low noise emission
Energy saving
Position detection in the drive motors
Easy maintenance and service
Easy Operation
The operation of the FRÖMAG keyseating and profiling machines is operated by easy to understand graphical Menues. Language of the user interface can be changed to nearly every language.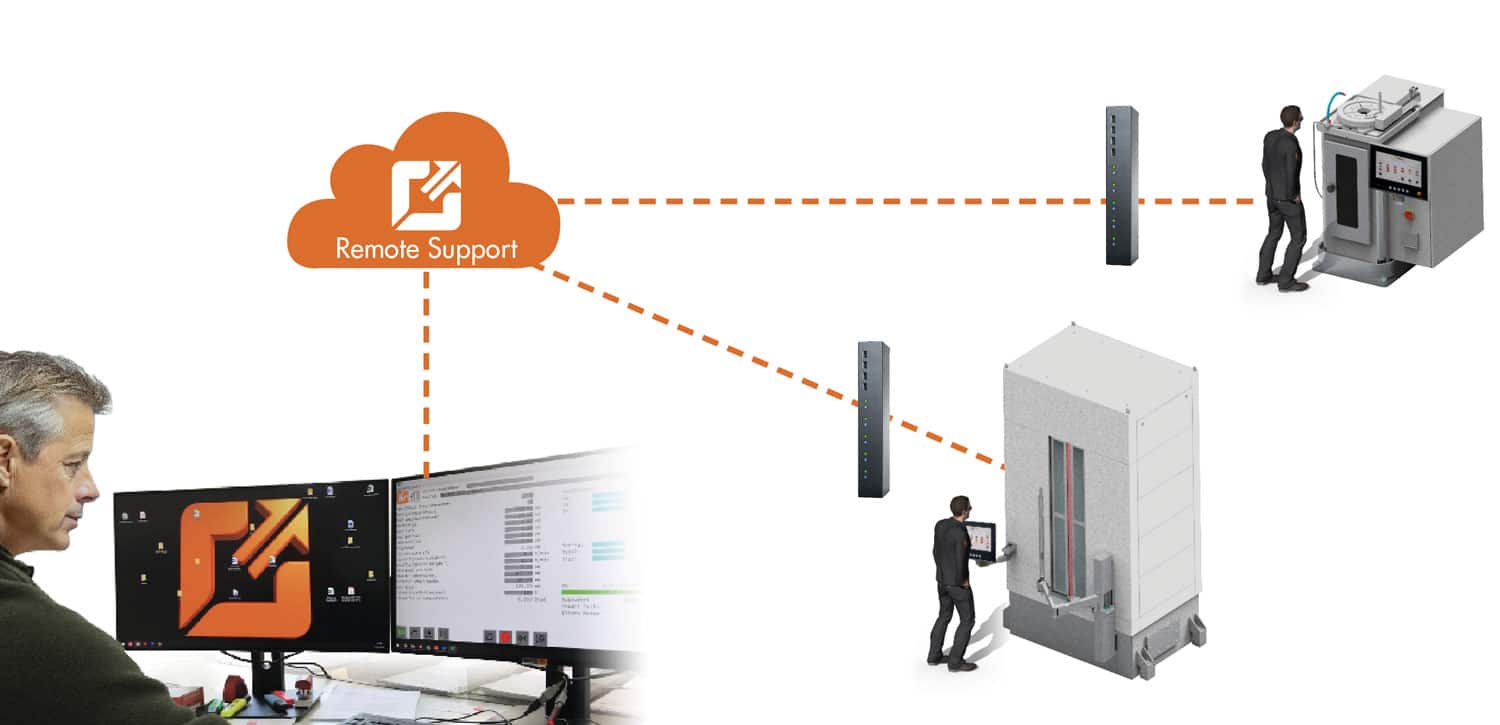 Remote Service Support
Easy, Flexiblen and Fast.
The FRÖMAG Remote Support Router reduces costs and increases response time for the availability and maintenance of your FRÖMAG machines demonstrably. After plugging in, the Remote Router connects the machine via Ethernet or GSM to the web. FRÖMAG service connects to the machine remotely for technical support, assistance or trouble shooting.
Safety first:
Strong end to end encryptionm two factor security authentication and standard measures to reduce risks of vulnerabilities are put in place. The machine can be disconnected or put offline as you require any time.
The key points at a glance:
• Easy plug-in installation to your machine
• Ethernet or GSM-connection available
• FRÖMAG connects to machine
• Online technical support and assistance
• Demonstrable reduction of downtimes
• Cost-effective avoiding travel time
Easy plug-in installation to your machine
Online technical support and assistance
Avoiding extensive travel costs
Ethernet or 3G/4G-connection available
Demonstrable reduction of downtimes
Automatic workpiece recognition
Automatic workpiece recognition, no contact, no manual measuring, no additional input in control
Equipped with Indexing tables
FRÖMAG manual and automatic indexing tables are available, depending on design, for bores from 10 – 900 mm
FRÖMAG indexing tables are used, for example, in the production of internal splines according to DIN 5462/5472 or other standards, multiple keyways, helical gears, and other profiles or keyways apart from each other.
Manual indexing tables are available for bores up to 400 mm and can be equipped for direct or indirect division.
Automatic indexing tables are driven by servo motors. The computation (indexing) is effected electromechanically and controlled by the main machine CNC. The data is input at the touch screen of the control panel.
Automatic Indexing tables, starting with the model TA400A and larger, are equipped with two servo drives (Master and Slave). This mode of drive allows a backlash free revolution of the rotary table enabling the machining of internal helical splines.
Automation keyseating and profiling machines
FRÖMAG clamping bridge combined with indexing table
All clamping bridges can be equipped with robots and portals for feeding.
Automation broaching machines
Automation FRÖMAG broaching machines
Machines can be equipped with robots and portals for feeding
Automation short stroke broaching
Quick and easy set-up
Advantage of the FRÖMAG clamping system:
FRÖMAG clamping systems feature a variable height setting in the equipment in order to react flexibly to the vast variety of workpieces.
»Made in Germany«
FRÖMAG machines and FRÖMAG machine components are manufactured in Fröndenberg, Germany.